This year is the 5th anniversary of my book GERTRUDE AND ALICE AND FRITZ AND TOM. I know it's a cliche, but I must say it anyway – "Where has the time gone?" 
The book has found its way to readers around the world and just last week I shipped another five copies to Shakespeare & Company in Paris, which has sold more copies of it than any other bookstore or online retailer, which I find so appropriate and gratifying.
Would I do it again? Yes! Do I have more tales to tell, yes! But for now, here is my post from five years ago, as I awaited the first shipment of books from Singapore:
Wasn't it Lady Macbeth who said "What's done is done," at some point either before or after that bloody dagger scene? (Just checked, it's after the dagger scene – that would be logical !)
Well, I've done it too and feel a bit like a parent dropping off his first child at kindergarten hoping for the best as tears well-up and Miss Crabtree leads the young one away to join the other rascals.
So what is it that's been done – the children's picture book which I've been working on for…let's just say many,many years is on its way to a printer in Singapore!
Even before the finished book headed across the Pacific, it's been a long day's journey into…take your pick of O'Neillian nouns! (My, this has become a drama laced post!  Must fit in Mr. T. Williams before I'm through.)
GERTRUDE AND ALICE AND FRITZ AND TOM came about after I read a chapter in a memoir by Fritz Peters, BOYHOOD WITH GURDJIEFF.  The book tells of Fritz and Tom Peters's stay at the boarding school outside of Paris in the mid-1920s run by the mystic George Gurdjieff.  The boys would often visit GertrudeandAlice.  These visits away from the discipline and structured environment of the school must have been a welcome getaway for Fritz and Tom.
The book features one of their Thanksgiving visits to rue de Fleurus and the "perfect plan" that Gertrude Stein drew up to teach them about the historic and artistic sites of Paris. It's all there: Picasso, their dogs Basket and Pépé , their apartment filled with paintings "floor to ceiling," Alice's food, Notre Dame, the Eiffel Tower, the Louvre, rides around Paris in their favorite car Godiva and a bathtub scene with Gertrude lounging in a bubble bath!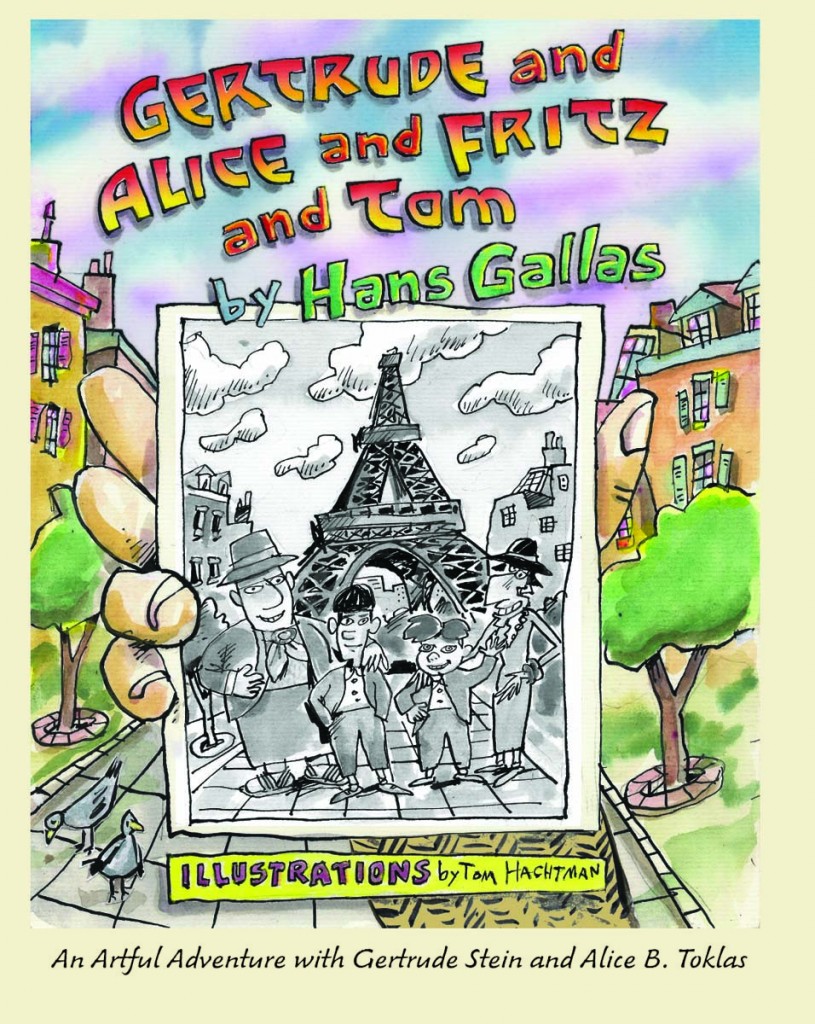 The boys  were the nephews of Margaret Anderson who with Jane Heap founded one of the 20th century's most important literary magazines, The Little Review, (they were also the boys legal guardians.)  GertrudeandAlice were not happy with their schooling with Gurdjieff and let Margaret and Jane know on more than one occasion. (I have long felt that GertrudeandAlice were great fans of children and sincerely cared about them.)
I first wrote the story in rhyming verse, a la Dr. Seuss, one of my childhood heroes.  But after showing it to my good friend Bruce Kellner, he recommended re-writing it as prose unless I was willing to spend a lot of time trying to get the rhyme to scan properly. (Remember scanning poetry in English class with those accented and unaccented syllables?)  I re-wrote the story and Bruce and I liked the outcome.
I had gotten to know Tom Hachtman a number of years ago after his book GERTRUDE'S FOLLIES became part of my collection. Tom agreed to do the illustrations for the book using the drawing style he'd created for the Follies comic strip.
Then the quest for a publisher began.  I had a very bad experience several years ago with a publisher in New York who had expressed interest in an Alice B. Toklas reader. A contract was issued and then the publisher pulled out  once a new editor entered the picture.
With self-publishing blooming a few years ago, I found a publisher I  liked who was willing to print a hardcover children' s book with color-illustrations. Most self-publishing companies would only print paperback editions. Then the publisher was bought by amazon.com and became a part of CreateSpace and they would no longer print the book in hardcover!
My friend Kathleen Gross, who has designed the book, however worked for months with CreateSpace and we almost gave in to doing the book as a paperback edition. But then we were confronted by the proverbial last straw that broke this camel's back —they were unable to print the title and author of the book on the book's spine since the book was under 100 pages!  What bookstore or library (or any book purchaser) would want a book that you can't identify on a shelf because there is no title on the spine?
And so, just as GertrudeandAlice created Plain Edition in 1930, with their address 27 rue de Fleurus on the title pages,  to publish five of Gertrude's books, I've created GertrudeandAlice Editions almost eighty years later to get this book out after my other unsuccessful efforts!
I found a printer in Singapore, TWP Ltd., recommended to me by the poetry editor of McSweeney's, that incredible book and magazine publisher, not to mention a component of one of the country's premier student writing programs, 826 National.  The printer was rated by him as among the best in the world, not a bad endorsement.
Now the wait begins. It should be six to eight weeks. Books will be available for Holiday giving, so begin your lists of who you'd like to surprise with this year's must-have gift!  I'll be setting up a page as part of this blog so that the book can be ordered here and I've created a Facebook page for Gertrude and Alice and Fritz and Tom to get the word out through that network. I'm not a big Facebooker, but let's see how that goes. I'll also see about getting it on amazon.com. There are a number of bookstores around the country that I'll get books to, as well as shipping some to my friend Jane Turner at the Gertrude & Alice Cafe Bookstore in Bondi Beach, Australia.
So, stay tuned and like a cat on a hot tin roof, I'll jump only if I find one hidden typo in the finished book!  You see I got Tennessee Williams in this post too —not to mention Elizabeth Taylor and Paul Newman!!