Forty-nine years ago today, Alice B. Toklas died a few weeks before her 90th birthday. In remembrance, here is a portion of a story I wrote sixteen years ago about Alice's life alone following Gertrude's death.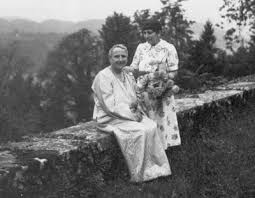 "What's the answer?" Gertrude queried. Alice didn't reply.
"Then what is the question?" Gertrude asked with a sigh.
The day ended in sadness, the room filled with a chill.
Soon Gertrude was gone, she had been too, too ill.
A long friendship was over, years of love, years of care,
Alice sat in the darkness, "Now what, when or where?"
From all over the globe, tributes came overnight
For a writer who'd changed how to think, how to write.
At home rue Christine was so cold, was so bare,
Basket wandered about, then curled up by her chair.
"Staying on alone," Alice wrote to a friend,
"Is what I must do, for myself I must fend."
It was letters that gave Alice comfort and more,
Filled with joys of the past, hopeful thoughts by the score.
All the art on the walls had their stories to tell
Of two lives intertwined with great artists as well.
Friends kept Alice busy with their visits and strolls,
And with Carl Van V she'd reach one of her goals –
To publish the works that sweet Lovey had penned,
That were now at Yale U, overseen by a friend.
But a question was posed, more than once, more than twice,
"Alice, why don't you write 'bout your life, that'd be nice?"
"Me, what do I say that you all want to hear,
Didn't Lovey do swell, she's the writer my dear?"
Two young men would come by, one from Cal one from Yale,
With recorder and pad they regaled the ol' gal.
"That my dears is too private, let us stop for the day,
It's my time for a smoke, you can be on your way!"
Then a cookbook did happen in concise cookbook prose
With line drawings provided by a friend, Francis Rose.
Luscious recipes filled many pages quite well,
And in Alice's stories there was so much to tell.
Adventures there were, some in peace, some in war,
All carefully linked to the food and foodlore.
Dear friends added recipes with their own food for thought,
With fine cooking tips from the trained or self-taught.
One recipe though caused excitement – a stir,
Which made Alice wonder and somewhat unsure
Of how to now handle all the press, all the fuss,
"My dears, is there really this much to discuss?!"
'Twas the plain hashish fudge that caused such a row,
It was just a small pinch that would add extra pow!
In the U.S. editions this page did not appear,
While the Brits printed volumes without any fear.
This recipe? You're curious, so curious, eh?
So a few lines are next, with some tips by the way:
Grind the spices real fine, nutmeg, cinnamon too,
Add a handful of dates, figs and nuts, just a few.
Then comes canibis sativa, a-k-a grass or weed,
And some sugar and butter, now be careful to knead
All these fine things together till they're blended just so,
Then roll out little balls – the treat's ready to go.
The cookbook was a hit with the young and the old,
And Alice gained fame once again, I am told.
(Even many years later with the Beats or Hippies,
ABT's magic 'brownies' were certain to please!)
Another book was written with food at the core,
With aromas and flavors discussed more and more.
Alice wasn't too pleased 'bout the book or its tone,
But a better one followed about Alice alone.
"What Is Remembered", was the book that soon came to be,
It was memories, stories and more reverie,
Of Harriet Levy's long friendship so fine,
And how they first met the great, great Gertrude Stein.
More years soon went by, and old age took its toll,
Though shoulders were stooped Alice still played her role.
ABT welcomed friends for some tea and a chat
Of then and of now, of this and of that.
She'd write for home magazines some here and some there,
About fashion or food and took such great care
To keep so alive what was old, what was new
With the spirit of Lovey always there through and through.
Then came a shock at number five rue Christine,
A shock that was sudden and oh, oh so mean!
The Stein heirs made demands, "This mod art is too rare!
It's ours now to take! It is just! It is fair!"
And so one sad day (Alice had been away),
She came back to bare walls, "My, my what can I say?
Though my eyesight's so poor, these walls can still cheer,
Because in my mind's eye those paintings are here!"
Some of her last days were spent in convent walls
Amid caring, dear nuns and the day's vesper calls.
And when her time came and her life too did end,
She had faith that she'd see her one dearest friend.
   In a large flat in Paris on a rue, (that's a street by the way),
Lived two ladies who'd moved there from the U. S. of A.
This pair, Lovey and Pussy, what to say as a close?
It's because of these two that a rose is a rose…!