The role of a critic in any field, whether in the arts, food, fashion and so on, is a balancing act. If a critic is too "nice," (s)he is often suspected of being in cahoots with what is being evaluated.  If a critic is too harsh, (s)he is often branded as someone who has lots of bad days and is taking it out on someone else. And if a critic is wishy-washy, readers often question the critic's credentials and move on to the critiques of other writers.
A few weeks ago, a friend sent me an e mail mentioning a new novel which features Gertrude Stein as a central character. It was written by a respected Moroccan poet, Hassan Najmi , and has recently been translated into English. It is simply called GERTRUDE, but that is where the simplicity ends.  My response to the book after reading it is far from simple and is, in many respects, very complicated and perplexing.  The book is published by Interlink Publishing whose tagline is  "Changing the Way People Think About the World."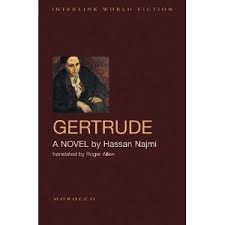 How about replacing a few words making it "Changing the Way People Think About Literary Icons by Dragging Them Through the Mud?"
My dear friend Denny Stein, a cousin of Gertrude's, once said to me in regards to her famous cuz,  "Everyone thinks they own her."  I certainly feel that I own at least a part of her after almost 30 years of being in her company. That's why I have such strong negative feelings about this book.
The author of GERTRUDE also thinks he owns her and I don't like it!  I like it even less, when he has his central character, a young North African lad, jump into bed with her,  first in Morocco and then at 27 rue de Fleurus.  Alice is downstairs and should be crying in her soup! (There is also a scene in which all three of them are in bed together – that for me was the bale of straw that broke the camel's back!)
Anyone who knows me, knows that I am a pretty level-headed, not too excitable guy with an undercurrent of subtle humor.  So when I do get upset, something really bad must have gotten my goat. (Love that idiom!)
To begin at the beginning. I am a fan of historical novels, especially ones in which the writer has found an obscure individual in the life of a famous person and builds a story around him or her. One of my favorites, which celebrates its 10th anniversary this year, is Monique Truong's THE BOOK OF SALT. In it she creatively interweaves the lives of GertrudeandAlice with the life of Binh, their Vietnamese cook, a composite of the various southeast Asian servants described in Alice's cookbook.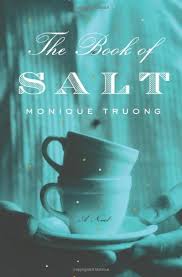 GERTRUDE is no THE BOOK OF SALT.
So, to present the source of my quandary.
During a trip to Tangier in 1912, GertrudeandAlice had a young, Moroccan guide named Muhammad.  This episode appears in both THE AUTOBIOGRAPHY OF ALICE B. TOKLAS and in Alice's memoir WHAT IS REMEMBERED.
 Muhammad, who was an adopted son of the sultan of Tangier, had been  assigned to them since parts of the city were dangerous for unescorted foreigners.  In the novel, Muhammad and Gertrude really hit it off to the point that they have their first intimate moment right there in a hotel room in Tangier.  (Too bad that what happened in Tangier didn't stay in Tangier!) They are so infatuated with each other, that Gertrude invites "Mo" (yes, that's what she calls him. Maybe "Mu" would have been more appropriate, in light of the meaning of the word "cow" in her writings!) to come to Paris to stay at 27 rue de Fleurus.
I know that Gertrude was a very sensual and sexual woman, exciting both genders. Hemingway wrote to a friend that he'd like to" fuck" her  (that is the word he used) and another young man recalled how he became sexually excited standing near her.  (I will not use one of the crass terms for that state.) Many of her writings, "Lifting Belly," being one of the most sensuous, not to mention her love-notes to Alice (oops, maybe it wasn't always Alice?!),  are sexually explicit, though they have had to be decoded and are the subject of much scholarly interpretation.
Should I care if Gertrude Stein is presented as a bisexual?  It is not so much her purported bisexually in the novel that concerns me, but the fact that Gertrude's relationship with Alice comes across as so minor.  There is also no respect for either of them as women by the author,  with Gertrude referred to as a "rhinoceros" and more than once as a "pig" and Alice as a "buzzard."
What makes the story-telling even more complicated, and often confusing, is that the narrator, Abu Hasan,  a journalist friend of Muhammad,was asked by him at the end of his life to write about his life in Paris and his trysts with Gertrude. He notes their conversations and uses Muhammad's journal to piece the story and relationship together.
Abu, before he goes to Paris, befriends an employee of the U.S. embassy in Rabat, to the point of having an affair with her (lust is in the air everywhere), who somehow miraculously knows a lot about Gertrude Stein.  She helps him maneuver the Gertrude and Mo (I really want to say "Show") liaison.
Enough? Well, just one more gripe.
The timeframe during which events occur in Paris upon Muhammad's  arrival are both confusing and disconcerting for anyone who is familiar with Gertrude's life and her circle of friends. Of course the writer of historical fiction has the freedom to compress dates and introduce historical characters at whatever point he feels they fit into the story.  But every time an incorrect reference came up or a character appeared historically premature or tardy, I cringed – but that's my "Ownership-of-Gertrude" coming through. (There was an ongoing reference to their "little dog," so I'm not sure if that was Basket as a puppy or Pepé, their Chihuahua. "Karl Von Feichten," later in the book became "Carl Van Vechten, that's the correct name!" And Gertrude wanted to give Muhammad a signed copy of her first book, QED, which wasn't published until 1952 after her death. Mo would have had about a 40 year wait for that book! Her first book was THREE LIVES (1909).
To continue my animal idioms from camel, to goat and now to horse:
I don't mean to beat a dead horse, but one final indignation.
At the end of many books there is an Appendix which either lists sources or additional information pertinent to the book. In this case, there is a section called "DESTINIES (A SHORT GUIDE)."  The "guide" presents the fate of the primary characters after the novel's end.
The egregious and slanderous information given about Gertrude includes that in her will she left "her valuable art collection to the new Guggenheim Museum in New York City." FALSE: it was taken from Alice by the wife of Gertrude's nephew, Allen, and later sold and dispersed after Alice's death.
Following the erroneous museum entry, is: "She left nothing to Alice B. Toklas." FALSE: In her will Gertrude left everything to Alice except for the Picasso portrait which went to the Metropolitan Museum of Art.
Enough said.
Read the book if you're curious, as it does take imagination, time and commitment to write a novel, but be forewarned.  Many of you, as loyal readers of this blog,  probably know more about GertrudeandAlice than did the reader of the translated manuscript of this book or the editor who approved this English edition.
Get ready for a bumpy historical ride.  Don't throw your e -reader to the floor or rip out a page from the book when our GertrudeandAlice are portrayed more like a lascivious Oliver Hardy and simpering (which he was) Stan Laurel, than the "Ladies of 27"  that we've come to "own" and love.
APPENDIX
"Stowner," n. anyone who owns a part of Gertrude Stein and is also a fan of Alice's cookbook.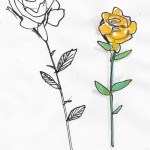 P.S.
"Humor is the affectionate communication of insight." – Leo Rosten