The year was 1934. FDR was in the second year of his first term as President.  The top movie of the year was "It Happened One Night" with Clark Gable and Claudette Colbert. And the theater and opera world were agog about FOUR SAINTS IN THREE ACTS!
The agogism wasn't because the opera's title was a lie, as there were more than four saints and more than three acts in the piece. Neither was the music by a not too well-known composer, Virgil Thomson,  particularly revolutionary.  Yes, it had an all-black cast, a first for an opera or theater work on Broadway (this was pre-Porgy and Bess), but what raised eyebrows and caused agogamania was the libretto by Gertrude Stein, that little read, but very much in the public eye, personality and transplanted American from "artsy-fartsy Paris!"
Why with lyrics from one of its most well-known refrains, why wouldn't there be Steinmania across America?
"Pigeons on the grass alas.
  Pigeons on the grass alas.
  Short longer grass short longer longer shorter yellow grass. Pigeons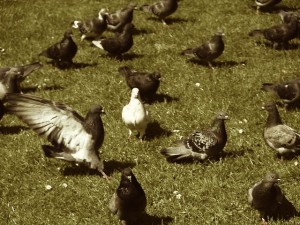 large pigeons on the shorter longer yellow grass alas pigeons on the
grass.
  If they were not pigeons what were they."
When Gertrude's editor for the book version of the opera, Saxe Commins at Random House, raised questions about the libretto, she turned to him, stared him in the eyes and said "My dear, you simply don't understand!"
Now, almost 80 years later, an exciting, new version of  FOUR SAINTS, Gertrude Stein SAINTS!,  comes to New York in a few weeks to the La MaMa Theatre, the  historic off-off Broadway theater (it's where the musical HAIR was created and performed in 1968), as part of this year's New York International Fringe Festival.
These SAINTS! are marching in to the beat of a different drummer in more ways than one!
Here's a bit of history and background:
"Our initial investigation into Stein's work began with an all-male production of Four Saints in Three Acts at Carnegie Mellon University in February of 2013. Stein's libretto offers no plot, no characters, and no conflict; it is a non-narrative text that can best be described as linguistic gymnastics.  In all this absence, anything becomes possible and what we have discovered is a Theatre of Joy. The response to the original production was overwhelmingly positive and became an invitation for more. We have since added an all-female Saints and Singing, also featuring an original musical score inspired by American music created by insanely talented performers. The two works are combined to create Gertrude Stein SAINTS!, a powerhouse that explores gender, a theatre that replaces conflict with joy, and America."
Under the guidance of director Michelle Sutherland, this production has also tapped in to the 21st century's answer to the patronage of the Medicis or the generosity of the Rockefellers, Guggenheims, or Fords, by raising funds through kickstarter.com. The goal of the 21 day campaign is $9,000, of which more than two-thirds has been pledged and there is one week to go!
Be a part of this! Haven't you always wanted to be a Medici or Rockefeller? And if you're in or near New York City next month, get your tickets soon.
www.kickstarter.com/projects/1345434627/gertrude-stein-saints
If they were not pigeons, what were they? My dear,  SAINTS!, of course! Now you understand!