The Autobiography of Alice B. Toklas was published 80 years ago this fall.  What better way to celebrate this anniversary and Alice's birthday on April 30th (Happy 136 !),  than with another autobiography, but not just any autobiography would do and it hasn't!
Just a few weeks ago THE AUTOBIOGRAPHY OF DANIEL J. ISENGART by Filip Noterdaeme was published by Outpost19. Honoring the style of Stein's faux-biography, Noterdaeme writes about his partner and their life together.  They are the new expats, one from Belgium, one from Germany, and their Paris is Brooklyn, New York City, the Hamptons and beyond.
But who are FilipandDaniel, the GertrudeandAlice of the 21st century, whose book ushers in the 80th anniversary year of THE AUTOBIOGRAPHY?
Only a few facts here as the book tells their story and tells it with humor and style and a genuine affection and respect for the original telling of that other expat partnership that began more than 100 years ago.
Filip Noterdaeme, the one from Belgium, is a conceptual artist, Art Establishment provocateur and founder of HOMU, Homeless Museum of Art. (The story of the Museum with its history of open door, closed door, outdoor, and visit-by- appointment machinations is a vital and central theme of the book.)
Daniel J. Isengart, the one from Germany, is described in his autobiography  as "a pretty good housekeeper, and a pretty good cook, and a pretty good handyman and a pretty good singer and a pretty good translator for songs."
They met in 1999 and have been inseparable ever since – sound familiar?
In addition to being written a la Gertrude's Alice ( the Publisher's note indicates "The unique syntax, punctuation and capitalization…are in meticulous homage.") the design of the book  captures some of the elements of the original, American first edition. Each book has seven chapters with similar titles, the fonts and layout of the covers are similar including that mysterious white dot!  The covers also feature a photograph of each couple: FilipandDaniel are in bed (Yes, that is Madame Butterfly! Why? You'll need to read the book!) while in the Man Ray photo of the original I conjecture that Alice is entering the room to entice Gertrude to the boudoir!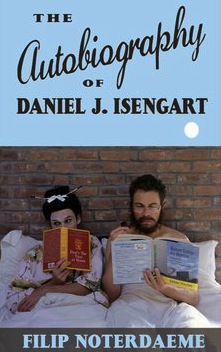 Eighty years ago, Gertrude's book was widely reviewed and its popularity resulted in the six month long U.S. lecture tour in 1934-35.  What better tribute to this new autobiography than to acknowledge its creativity through the words of the reviewers from 1933?!
I have italicized the words that I have replaced in the original reviews.  It is uncanny how these reviews could also have been written about THE AUTOBIOGRAPHY OF DANIEL J. ISENGART by Filip Noterdaeme!
***
"In The Autobiography of Daniel J. Isengart, Mr. Daniel Isengart, the faithful friend of Filip Noterdaeme, describes the life, opinions, and conversations of Mr. Noterdaeme, with the help of Mr. Noterdaeme's pen.  He knows Mr. Noterdaeme very well, and the picture is very true.  Of course it is also a picture of New York … and artistic New York, cosmopolitan New York…the streets of New York and the studios of New York.  It is a picture of the birth and growth of that new art which has shocked so many people and which has become such an essential feature of our modern life.  It is a very rich picture of a very rich world, and it is a big panorama where hundreds of people come and go, but of course the center of the picture and the best part of it is Mr. Noterdaeme.
…I could add many,  many things.  But they do not really matter very much: only the book matters and the life in the book; there is so much life in it that it is the fullest and gayest book I have read  for many years.
It is full and gay and queer and unexpected all along."
Bernard Faÿ,  "The Saturday Review of Literature, " September 2, 1933
***
"The presence of his peculiar character and intelligence is excitingly strong thoroughout the pages of The Autobiography of Daniel J. Isengart.  It is so evident that already I have heard plaints by those who have seen the book before publication, that his opinions on art, on life, on friends, are all made flatly with an implied denial of the right of contradiction.  This is not true.  In conversation, in life, as in his writing, Filip Noterdaeme has cleared away a great deal of rubbish.  He is eminently of the twenty-first century and has no time for such phrases as "if I may say so," or "in my opinion," and this is extremely refreshing.  It saves a great deal of time.
 …The Autobiography of Daniel J. Isengart is a fascinating book.  It is also historical even in American writing as well as in the history of modern art."
 Louis Bromfield, "The New York Herald-Tribune Books,"  September 3, 1933
 ***
 And then there was a spoof of THE AUTOBIOGRAPHY OF ALICE B. TOKLAS by Frank Sullivan in the July 1, 1933 issue of The New Yorker.   It was written before the book was published except  in serialized form in The Atlantic Monthly.  To avoid making this piece truly convoluted and confusing, I am quoting an excerpt from that article exactly as it was written, no italicized substitutions:
"I got the idea for writing this autobiography from a very interesting series of articles now appearing in The Atlantic Monthly, called The Autobiography of Alice B. Toklas.  My name also being "Alice B.," I naturally read them.  One of the many interesting things about The Autobiography of Alice b. Toklas is that it was not written by Alice B. Toklas at all.  It was written by Gertrude Stein…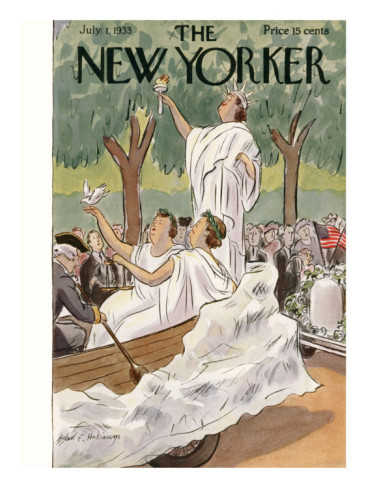 I said to myself, "Well, if Alice B. Toklas can have her autobiography written, I guess Alice B. Sullivan can, too," so I called up my very dear friend Frank Sullivan, and asked him if he would come directly over and write my autobiography.  He did, and this is my autobiography, by Frank Sullivan.
 I think I have met three authentic geniuses in my life.  They were Frank Sullivan, Pussyfoot Johnson, and a perfectly charming man I once met on the Number Three Fifth Avenue bus.  I forget his name.
…Frank wrote the now famous Tender Bean, which began like this: Oh bean bean venus have you fallen fallen on frank frank's bean question mark yes oh ouch cuts abrasions and contusions."
Frank wrote Tender Bean in chalk on the sidewalk in front of 277 Park Avenue.  He was arrested for it…"
***
And my review:
"Get this book !"
***
To see more about the book and FilipandDaniel, go to:
http://www.outpost19.com/Autobiography/index.html
http://www.homelessmuseum.org/hmu_pages/the_autobiography.html
THE AUTOBIOGRAPHY OF DANIEL J. ISENGART may be ordered online or check with your local bookstore.
Get it and you will make Alice's birthday extra special this year!
PS
After posting this, I received a very gracious e mail from Filip and in it he also mentioned that April 30th is Daniel's birthday !!
"Uncanny is uncanny is uncanny is uncanny ! !"