As another year ends, I, as many of you, will exclaim "Another year? What a year!"
All years have their ups and downs and this one was no different.
Events on the world stage were as crazy and heart-breaking as ever .  And I often wonder as years like 1929 or 1941 or  1962 came to a end, whether the despair of events of those years overwhelmed the joys that must also have entered people's lives.
Two major links to GertrudeandAlice left us this year: Julian Stein, Jr. and Robert Lescher.
Those of you who have been following my posts have been introduced to Julian, Gertrude's cousin, through the excerpts that I've featured from his memoirs.  (There are more to follow in the new year, I promise.) Julian will be remembered for a long, long time by all of those who knew and loved him.
Robert Lescher was a major figure in the New York publishing scene for 60 years working with such writers as Robert Frost, MFK Fisher and Isaac Bashevis Singer.
He traveled to Paris in the late 1950's and early 1960's to work with Alice on writing her memoir, WHAT IS REMEMBERED.
Alice had begun work on the book with Max White, whom Gertrude had praised as one of America's young, up-and-coming writers in the late 1940s. For a number of months he met with Alice at rue Christine, taking notes as she related her life with Gertrude to him.
However, at one point he stormed out of a visit , notes in hand since , as he later put it, he did not believe Alice was telling him the truth and he wanted nothing to do with such a book.  He destroyed the notes and it was up to Robert Lescher to again begin the process as her publisher eagerly awaited the manuscript. The book was finally published in 1963.  I had a chance to meet with him twice in NYC and enjoyed his recollections of time with Alice.
So, as we all wrap up the last week of 2012 and gird ourselves for the ups and downs of 2013, my card to all of you this year features you know who,  with four-legged you know who the second and a few collaged items to make it all festive!  In her lap, Alice proudly displays her fruitcake which was one of the things that she relished making at the end of WWII.  The recipe is in her cookbook and ends with preparing icing  though she insists that that is "gilding the lily!"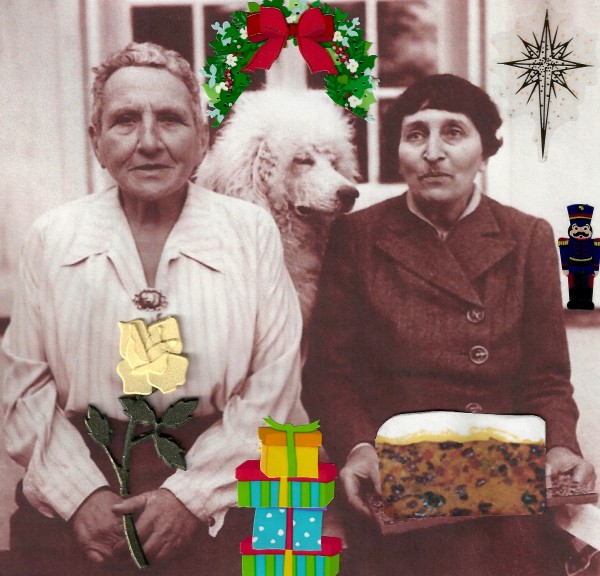 With all good wishes to all….
HRG