One Stein year has ended and in the best tradition of Steinian repetition a new one has begun.
The SEEING GERTRUDE STEIN exhibition will close at the National Portrait Gallery in Washington, DC on January 22nd and anyone who lives nearby or has a few frequent flier miles to burn and hasn't seen it should still make an effort to go.
I had seen it more than 10 times in San Francisco and was still blown away by the installation in DC which gave the show a totally different feel. The various rooms in the NPG lent themselves perfectly to telling Stein's five stories and the decision to hang some of the paintings salon style was genius as it transported viewers back to the rooms in rue de Fleurus, where art was hung floor to ceiling.
The other Stein exhibition in DC at Stanford University's art gallery INSIGHT AND IDENTITY: CONTEMPORAY ARTISTS AND GERTRUDE STEIN has been extended until March 18th because of the excellent response. That exhibition features works by Australian artists Gisela Züchner-Mogall and Suzanne Bellamy; U.S. artists Laura Davidson, Tom Hachtman, Sally Schuh, and Katrina Rodabaugh; and German artist  Anne Büssow. First editions of the books that inspired the artists are also displayed.  Stop by the NPG and then the Stanford gallery and you'll have a most satisfying day of Gertrude overload!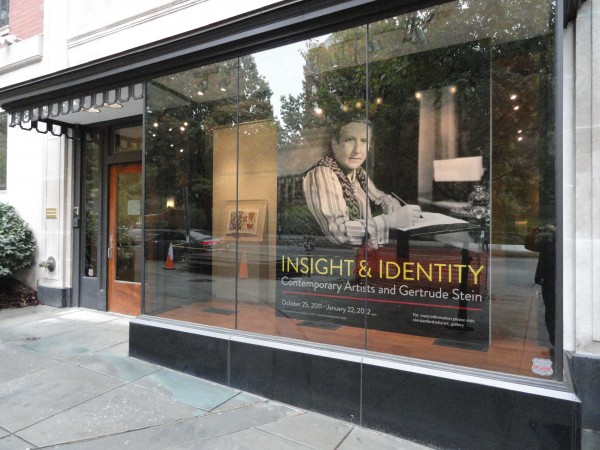 There will also be a one-day Stein writers' workshop in the gallery on February 4th, one day after Gertrude's 137th birthday conducted by Karren Alenier.The 10 am to 5 pm session will take place at the Stanford in Washington Art Gallery,2661 Connecticut Ave NW Washington, DC. The program, which includes an overview of Stein and her work, a tour of the exhibition INSIGHT AND IDENTITY  by me, writing time, and an opportunity to share newly created work inspired by the exhibition.
The program is open to writers of all levels and genres. The cost is $50. Participants will  be able to buy Tom Hachtman and my book GERTRUDE AND ALICE AND FRITZ AND TOM for 25% off —what a deal! Visit http://wordworksbooks.org.
Also check out Karren's promo video:
http://www.youtube.com/watch?v=wqj-DZwWO6g
KARREN LaLONDE ALENIER, poet, librettist and innovator of educational programs, specializes in creative work related to Gertrude Stein. Since 2003, she has been writing The Steiny Road to Operadom, a monthly column on Gertrude Stein and opera for Scene4.com. She is author of five volumes of poetry, with a sixth—On a Bed of Gardenias: Jane & Paul Bowles—forthcoming January 2012. Her opera Gertrude Stein Invents a Jump Early On premiered in New York in 2005 with a good review from the New York Times.
PS
And if that's not enough of a sprint into the new Stein year, THE STEINS COLLECT exhibition returns from its journey to Paris and will be at the Metropolitan Museum of Art in NY from February 28th till June 3rd.