It's Thanksgiving time and time to talk "food," as if many of us need a holiday as an excuse to talk food!
In the annual food issue of The New Yorker magazine this past week, there is an article by Laura Shapiro, "The First Kitchen,"  about the cuisine in the White House during the tenure of Franklin and Eleanor Roosevelt.  Apparently the food was quite horrible, but not because of the Depression or World War II, but because of the cook that Mrs, Roosevelt had hired, a Mrs. Henrietta Nesbitt.
I couldn't help but wonder if during their visit to the White House for tea in December, 1934, GertrudeandAlice encountered any of Mrs. Nesbitt's culinary curiosities.  And if they did, were they the perfect guests NOT whispering in Eleanor's ear that "This Mrs. N. has got to go, for the health of the country!"
As we celebrate Thanksgiving this year, let's turn to tastier things.
Alice mentions Thanksgiving in her cookbook, so the most-American of holidays was celebrated at rue de Fleurus and rue Christine over the years:
"…at Thanksgiving we had a turkey which Helene the cook roasted but for which I prepared the dressing.  Gertrude Stein not being able to decide whether she preferred mushrooms, chestnuts or oysters in the dressing, all three were included.  The experiment was successful and frequently repeated; it gradually entered into my repertoire, which expanded as I grew experimental and adventurous."
In my children's picture book Gertrude and Alice and Fritz and Tom, which will be coming out this spring, Thanksgiving is a key part of the story which is based on a chapter in the 1964 memoir, Boyhood with Gurdjieff, by Fritz Peters. Peters recalls Alice's Thanksgiving feast  in 1925. (Fritz and Tom were the nephews of Margaret Anderson who with Jane Heap founded  The Little Review. The boys were studying at the Gurdjieff boarding school outside of Paris.)
When I originally wrote the story I wrote it in rhyme. Here is a part of it with an illustration by Tom Hachtman which will be in the book:
"The boys arrived shortly and soon found their own spots,
Each had his own bed with plump pillows, oh lots!!
"You know Tom, we're in an unusual place,
That painting there, now where the heck is the face?"
*
"It's not a real face," a soft voice soon replied,
"That Pablo saw on the day that he tried
To capture the spirit and the feelings he saw,
Do view history and art with the same sense of awe."
*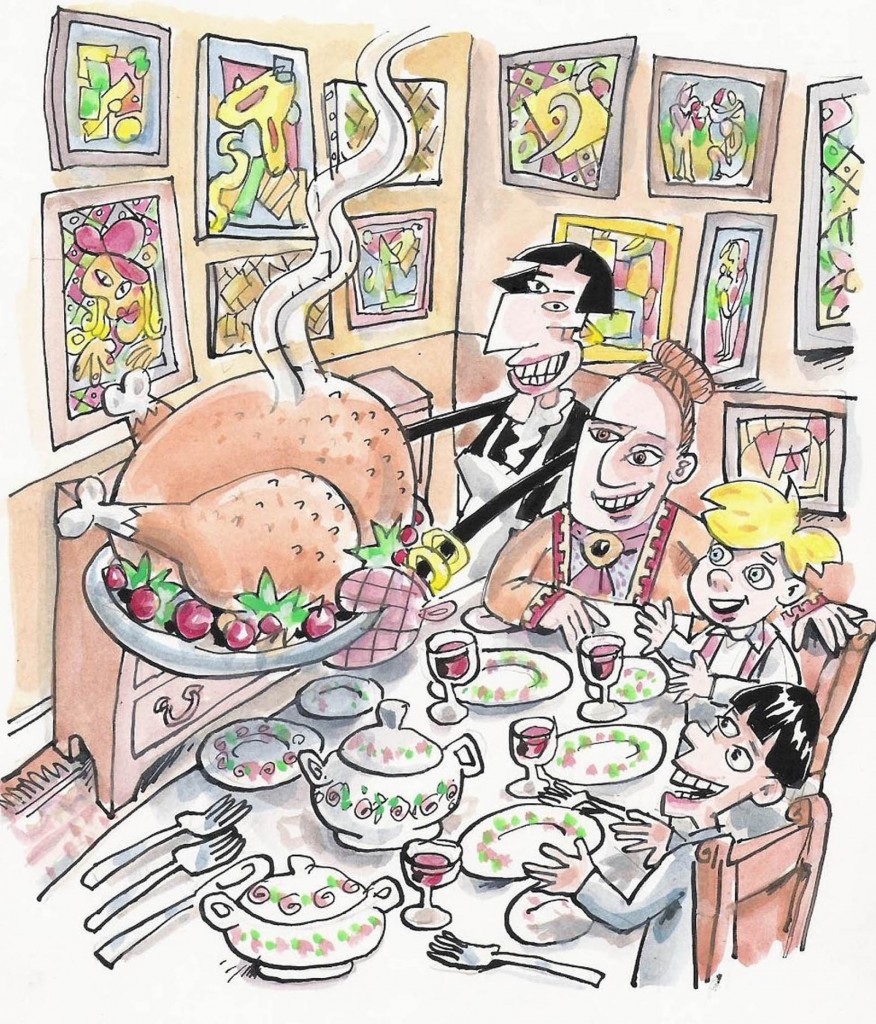 The Thanksgiving meal was a special delight
With turkey and stuffing and three pies made just right.
"Miss Stein and Miss Toklas, this home-cooking is swell,"
Fritz and Tom said together, it was almost a yell."
*
Happy Thanksgiving!