This past week I was in New York City (with a stopover first in Baltimore to visit Gertrude's cousin, Julian Stein, Jr. – more on that later) and as usual stayed at the Bryant Park Hotel not far from the Jo Davidson sculpture of Gertrude Stein in Bryant Park.
The sculpture has been in the park since 1992 and was donated by Dr. Maury Leibowitz. This casting is number eight in an edition of ten.  I don't remember the first time that I saw it and it's certainly a coincidence that the hotel that I've stayed in for years happens to be nearby.  When I'm here, however, I make a point of visiting it.
A picture of the sculpture is deceptive since it looks so much larger in a photo than it really is.  It's  only a little more than about 2 feet wide and maybe 3 feet high, but is very imposing because of Gertrude's Buddha-like seated position.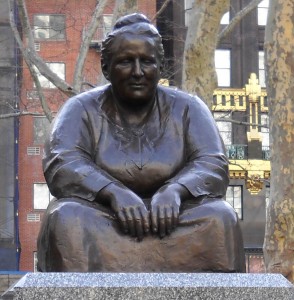 Gertrude's full figure, evident both from the front and back, attests to Alice's cooking and the delicacies provided by their various cooks.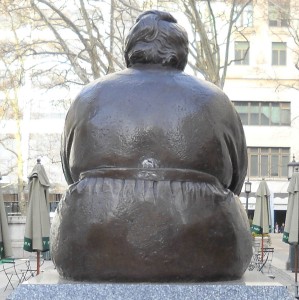 Gertrude sat for Davidson in his Paris studio in 1922, four years before Alice gave her  the famous Caesar haircut, so the statue features a Gertrude with a full head of Edwardian tresses.  The sitting with Davidson is documented in a Man Ray photograph.
The Steinian haircut may not be there, but something that is there, which is typical Gertrude, is the garment she's wearing – a cross between a Franciscan monk's robe and a fine Frette bathrobe.  Clothes for Gertrude were all about comfort and utility with a hint of current fashion touches provided by Alice's hand. In this case she is wearing a flowing-collared blouse and brooch: "Lovey, please at least wear that silk blouse and add a brooch so you look a bit less like a well-fed  St. Francis of Assisi."
And then there is the un-Miss Smith's Finishing School for Young Ladies pose, legs spread like John Wayne enjoying a whiskey at the local saloon.  This pose undoubtedly greeted many a visitor at the evening salons at 27, rue de Fleurus.  Almost twenty years after the sculpture was completed, Gertrude provided fashion designer Pierre Balmain direction to create her skirts wide enough to allow her to sit this way…what a genius wants, a genius gets!
Now to Baltimore where I saw another Davidson sculpture created six years after the Bryant Park Gertrude.  In this case it is a bust of ten year old Julian Stein, Jr. who was in Paris with his parents, Julian, Sr. and Rose Ellen. They were visiting cousin Gertrude who often referred to Julian, Sr. as her favorite cousin.  Young Julian's sitting is also documented by Man Ray and involves a story about measles which may be the subject of a future post!
This bust is beautifully detailed and reminded me of an elegant piece which might have been excavated from a patrician's villa in Pompeii.  How many ten year olds could have boasted about having such an amazing likeness by Jo Davidson sitting next to their collection of model ships and Tarzan books?
But  the Steins have always had a good eye for art.