May 20th, 2017 § 0 comments § permalink
Theatrical productions about GertrudeandAlice, whether play, musical or opera, just keep coming! The newest is The Marriage of Alice B. Toklas by Gertrude Stein by New York writer, Edward Einhorn presented at the HERE multi-arts center in New York City through May 28th. Einhorn also directs the show.
The play is a farcical frolic with members of GertrudeandAlice's charmed circle – you name them, they're there: Ernest Hemingway, Pablo Picasso, James Joyce, Ezra Pound, Sylvia Beach, T.S. Eliot, Virgil Thomson, Sherwood Anderson, Carl Van Vechten, Alfred Lord Whitehead, Francis Picabia, Henri Matisse, Thornton Wilder and the Steins, Leo, Michael and Sarah. Then there are nods to the Virgin Mary, Jesus, Moses and Solomon and assorted wives and mistresses – it is a farce after all, with some serious moments.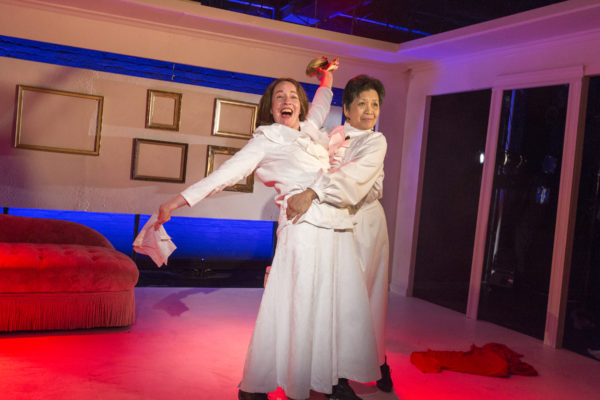 The happy couple: Alyssa Simon as Alice, Mia Katigbak as Gertrude (Photo Richard Termine)